Submitted on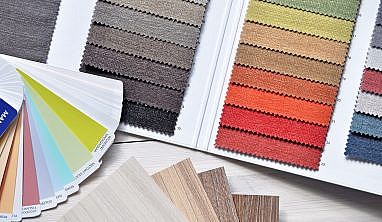 Part 2: Colour and paint
A&S Homes Design Centre expert, Lynn Fenwick, says colour will play a big role in 2019, as consumers embrace edgier hues.
On the heels of Pantone naming their top colour of the year, we're sharing the top tones to expect this year.
Rose Blush
Pantone named Living Coral its colour of the year, keeping pinkish hues at the forefront of fashion, home furnishings and other designs.
Fenwick says to watch out for blush tones, which were popular last year and have since matured to a less trendy and more timeless softer shade of rose neutral and muted blushes.
Red
This year's reds will evoke comforting or cozy feelings, Fenwick said. Incorporate this into your space with berry or vegetable-red tones, like Sherwin-Williams' Borscht.
Blue
Blues will have a calming grey undertone to promote the serene flow of energy, or a purple tone to reiterate artificial light.
And in a different direction, aqua, a greenish-blue tone, is being touted as one of the colours of the year, in both vibrant and muted hues.
Cream
Look for white tones with a nuance of colour, which creates a richer and deeper look that adds brightness.
Terracotta
Inspired by the rawness of materials like clay, which invokes an organic, earthy feeling. With the return of brick, and terracotta tiles, the colour has made its way back into the trends.
Purple
Last year's Pantone colour of the year, Ultra Violet, has mellowed to a less intense, more versatile shade.
Grey
Fenwick says you'll see grey acting as an undertone in other colours. Added to navy, purple, browns, grey can add a subdued sense of tranquility to a home.
Black
Black is the new grey, adding drama to walls, kitchens and bathrooms. Black is elegant if used properly, but overwhelming if overused.
Read our furniture and artwork, and decor room-by-room articles to learn more about the home decor trends we're watching for in 2019.