Submitted on
It's harvest season!
As the vegetables and fruits in your garden reach the end of their growing season, it's the perfect time to try out fresh recipes that will please the whole family.
The A&S family is thrilled to share some of our favourite fall recipes made with ingredients from our gardens. These tasty dishes are sure to tantalize your taste buds, we hope you enjoy every bite!
Bruschetta
Looking for a delicious and easy-to-make appetizer that's bursting with flavour?
This bruschetta recipe has got you covered!
Serves: 24 Bruschetta Toasts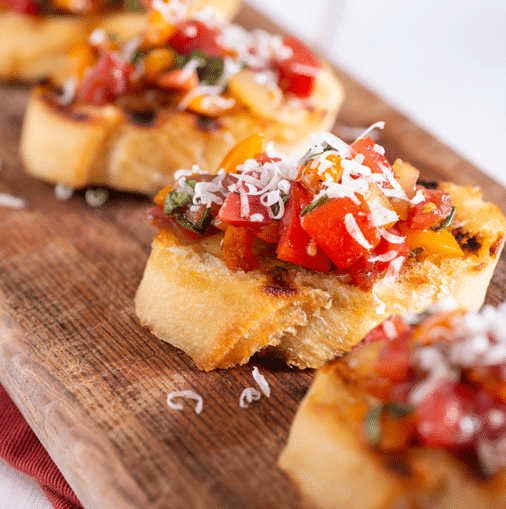 Ingredients for Tomato Bruschetta
6 Roma tomatoes
1/3 cup basil leaves, chopped
5 garlic cloves
1 Tbsp balsamic vinegar
2 Tbsp extra virgin olive oil
½ tsp sea salt
¼ tsp black pepper
Drizzle of balsamic glaze (optional)
Ingredients for Toasts
1 baguette
3 Tbsp extra virgin olive oil
1/3 cup shredded parmesan cheese
Instructions
Make the Tomato Topping:
Core and dice tomatoes. Drain any excess juice and transfer the tomatoes to a medium bowl.
Cut basil leaves and add to tomatoes.
Finely mince 5 garlic cloves. Mix 1 tsp of minced garlic into 3 Tbsp olive oil and set aside. Add the remaining minced garlic to the mixing bowl with tomatoes.
Season tomatoes with 2 Tbsp olive oil, 1 tbsp balsamic, ½ tsp salt and ¼ tsp black pepper. Stir gently to combine and set aside to marinate for 15-30 minutes.
Serve with bruschetta toast and a drizzle of extra virgin olive oil or balsamic glaze.
Make the Bruschetta Toasts:
Preheat the oven to 400°F with a rack in the center of the oven. Place toasts on a parchment-lined baking sheet. Cut toasts into ½" thick slices, slicing diagonally.
Arrange the toasts on the prepared baking sheet and brush the garlic-infused olive oil on both sides of the toasts. Sprinkle tops with parmesan cheese and back at 400°F for 5 minutes then broil on high heat for 1 to 2 minutes or until the edges are golden brown.
Roasted Butternut Squash Pasta with Crispy Prosciutto
Experience the cozy and comforting vibes of fall with our mouth-watering recipe for roasted garlic butternut squash pasta. As the weather gets cooler and the leaves start to change color, it's the perfect time to indulge in the delicious flavours of this harvest-inspired dish.
Serves: 8 Portions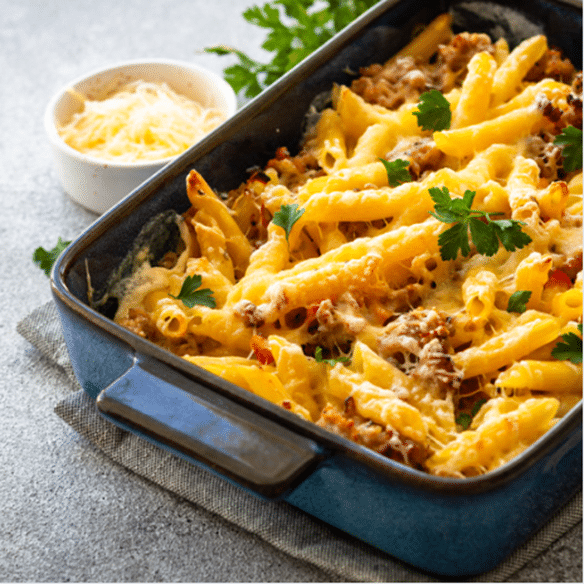 Ingredients
1 tbsp extra virgin olive oil
2 cups cubed butternut squash
6-10 cloves garlic
2 tbsp fresh thyme leaves
2 tbsp chopped fresh rosemary
Crushed red pepper flakes
Dash of salt and pepper
8 slices of prosciutto
½ cup ricotta cheese
4 cups of pasta
2 tbsp salted butter
½ cup shredded gouda cheese
1/3 cup grated parmesan cheese
Instructions
Preheat oven to 400°F
On a baking sheet, toss together the olive oil, butternut squash, garlic, thyme, 1 tablespoon of rosemary, and a pinch each of red pepper flakes, salt, and peppers. Arrange the prosciutto around the squash. Bake 20 minutes, check the prosciutto, then bake another 10-15 minutes, until the squash is tender.
Add the butternut squash, garlic, and ricotta to a food processor. Puree until smooth. Season with salt and pepper.
Bring a large pot of salted water to a boil. Cook the pasta according to package directions until al dente. Just before draining, remove 1 cup of pasta cooking water. Drain.
In a large skillet, melt together the butter, sage, and 1 tablespoon rosemary. Cook until the butter is browning, then add the butternut puree and ½ cup pasta cooking water, stirring until combined. Melt in the gouda and parmesan.
Add the pasta to the sauce, tossing to combine. If the sauce is too thick use a little of the reserved cooking water to help thin it out.
Divide the pasta between plates. Top with parmesan and prosciutto.
Apple Crisp
Don't forget to save room for dessert!
This classic apple crisp is an ideal addition to any harvest gathering. Enjoy the company of your loved ones as you indulge in a treat that embodies the essence of autumn.
Serves: 8 Slices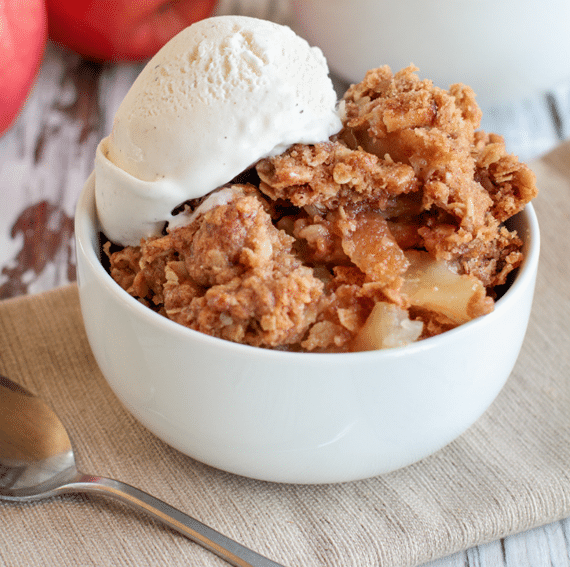 For The Crisp Topping:
¾ cup of old-fashioned oats
¼ cup of flour
1 teaspoon of cinnamon
¼ cup of sugar
¼ cup of light brown sugar
½ teaspoon of nutmeg
4 tablespoons of cold butter, cubed
For The Apple Filling:
6 Granny Smith apples (or any type of apple), peeled, cored, and thinly sliced
2 teaspoons of fresh lemon juice
¼ cup of all-purpose flour
¾ cup of granulated sugar
½ cup of light brown sugar
1½ teaspoons of cinnamon
Instructions
Preheat the oven to 350°F and lightly spray an 8×8-inch baking dish.
In a medium-sized bowl add the oats, flour, cinnamon, nutmeg, sugar, and brown sugar.
Add the cold cubed butter. Using a fork or fingers, work the butter into the flour and oat mixture until crumbly. Set this aside.
In a large bowl, add the sliced apples.
Drizzle the lemon juice over the apples. Toss the apples to coat them well with the lemon juice.
In a small bowl, combine the flour, sugar, packed light brown sugar, and cinnamon. Quickly stir them together to combine.
Sprinkle the flour mixture over the apples and toss to coat them.
Evenly layer the apples into the lightly sprayed baking dish.
Evenly sprinkle the oat mixture topping over the apples.
Bake for 35 to 40 minutes, or until golden brown.
Serve warm and top with ice cream or whipped topping.