Submitted on
A&S is honoured to be one of the proud sponsors of this year's Manitoba Woman's Box Lacrosse team in the 2022 Canada Summer Games held on August 6-21, in Niagara, Ontario.
The Canada Games, which are held every two years, alternating between summer and winter, are the largest multi-sport event in the country and represent the pinnacle of interprovincial/territorial sports competition. As the best in their age group, these young competitors come to the games having trained long and hard to be among those chosen to represent their respective province or territory.
This year's Canada Summer Games was one for the history books as the sport, lacrosse was introduced back into the games since its last appearance in 1985. As well as, for the first time the Summer Canada Games introduced an all-female Box Lacrosse tournament.
The Manitoba Woman's Box Lacrosse team had an amazing showing this tournament, as they had the chance to compete against 9 other teams coming from all over Canada. During the tournament group stages, the Manitoba Woman's team had gone 4-0 winning their overall pool. Winning this pool allowed them the chance to play in the quarterfinals for a medal. However, after a hard-fought game in the quarters, they had unfortunately lost by just a hair placing them 6th out of a total of 9 teams. Everyone here at A&S is very proud of you and is excited for the future of Woman's Box Lacrosse.
Did You Know?
Box lacrosse is exceptionally popular in Canada and is also known as Indoor Lacrosse. It is played on the inside confines of a multi-sport rink. The playing surface is enclosed by boards, usually made of wood or plastic, and each team has six players on the floor – five runners and one goaltender. Players rotate on and off the floor in shifts to play offense by trying to put the ball in their opponent's goal and play defense by preventing their opponents from scoring on their goal.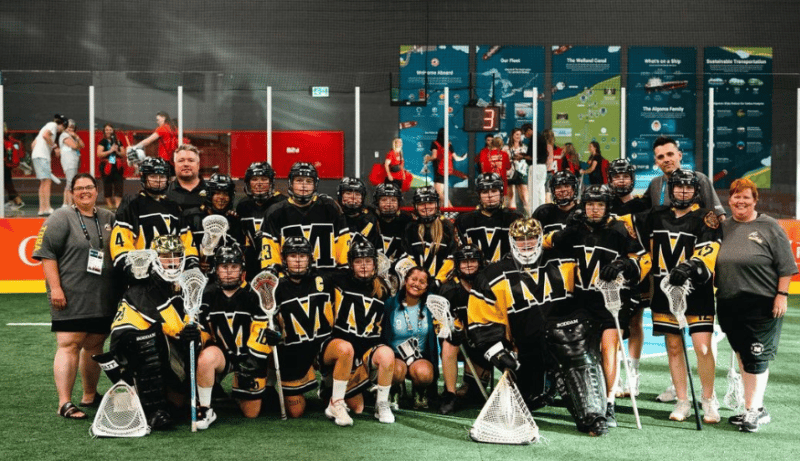 Picture Source: Manitoba Lacrosse Association