Submitted on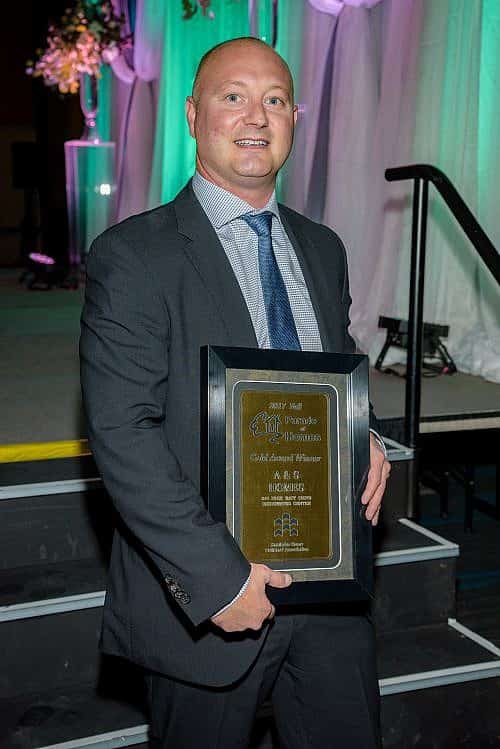 A&S Homes, Manitoba's leading homebuilder took home nine awards at Manitoba Home Builders' Association Fall 2017 Parade of Homes Gala award ceremony.
A&S Homes is proud to add to its trophy case, consisting of more than 200 MHBA awards – outdistancing any other home builder in Manitoba.
"We're honoured to take home nine awards – it's a great feeling to have our hard work throughout the past year recognized by the MHBA," said Frank Spezzano, Vice President of Business Development and A&S Homes. "I think it's clear that A&S Homes is the standard when it comes to craftsmanship, quality, and construction methods – our nine awards this Fall plus our six in Spring are indication of that."
A&S show homes are built to their Green Bow™ Approved standards that come equipped with industry-leading construction methods and high-quality materials. Green Bow™ Approved standards include high-quality exterior cement, high-performance air quality systems, multi-functional uncoupling layers, and low-emission paint. For more information, visit https://ashomes.ca/green-bow-approved.
Parade of Homes, a three-week, bi-annual event, offers new home buyers the latest in the home-building industry and occurred from September 9, 2017 to October 1, 2017. A&S Homes' show homes are open year-round at the following times:
Monday-Thursday: 5 p.m. – 8 p.m.
Friday: By appointment only
Saturday-Sunday: 1 p.m. – 5 p.m.
A&S Homes invites you to visit these award-winning Parade of Homes show homes:
THE FALCON – GOLD
247 Park East Dr in Bridgwater Centre
THE MONTE CARLO – GOLD
232 Cherrywood Rd in Bridgwater Trails
THE CORTINA – GOLD
14 Luzon Bay in Waterford Green
THE CANMORE – SILVER
36 Bow Water Dr in Bonavista
THE GRANDE VISTA – SILVER
214 Tennant Gate in Amber Gates
THE SAFFRON – SILVER
335 El Tassi Dr in Starlite Village
THE FIERA VISTA – SILVER
71 Kingsclear Dr in River Park South
AQUA HOMES – BRONZE
305 Park West Dr in Bridgwater Centre
THE WOODHAVEN – BRONZE
11 Falcon Cove in Tourond Creek
About A&S Homes
Since 1976, A&S Homes has developed a reputation as the cornerstone of new home construction in Manitoba. A&S Homes understands that a home is a place to gather with friends and family, retreat from the world, and create lasting memories. A&S Homes offers flexible customization packages and upgrades to allow focus on areas that matter most to future owners.