Submitted on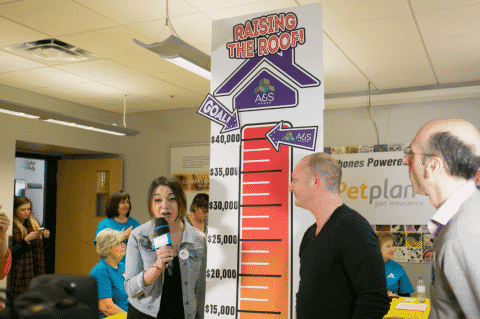 WINNIPEG, April 11, 2017 – On March 25, 2017, Winnipeg Humane Society hosted the 1001 Donations live telethon presented by Liberty Tax Service.
This year's 1001 Donations proved to be the non-profit charity's most successful telethon thus far. Winnipeg Humane Society raised more than $62,000 – $20,000 more than the intended goal of $40,000.
Several donors and sponsors, including A&S Homes, banded together and pledged to match donations for the day, which brought in an extra $40,000, resulting in more than $100,000 raised for Winnipeg Humane Society.
"We thank everybody involved for their support and helping surpass Winnipeg Humane Society's fundraising goal. It's incredible what a community can do when we get together and try to make a difference," says Vice President of Business Development, Frank Spezzano. "It's truly an honour to be able to help Winnipeg Humane Society continue their efforts and help improve the quality of life and welfare of animals."
A&S Homes is a proud sponsor of Winnipeg Humane Society and has supported many of its past events including the Fairmont Winnipeg Paws in Motion and The Winnipeg Humane Society's In The Ruff.
About A&S Homes
Since 1976, A&S Homes has developed a reputation as the cornerstone of new home construction in Manitoba. A&S Homes understands that a home is a place to gather with friends and family, retreat from the world, and create lasting memories. A&S Homes offers flexible customization packages and upgrades to allow focus on areas that matter most to future owners. Please visit ashomes.ca for more information.
About the Winnipeg Humane Society
The Winnipeg Humane Society is a registered charity and non-profit organization whose mission is to protect all animals from suffering and to promote their welfare and dignity. Funded primarily by donations, The WHS takes in more than 8,000 animals on an annual basis. All pets offered for adoption and sale have been spayed or neutered, received necessary shots and treatments, and a behavioural assessment.  For more information on The WHS, please visit winnipeghumanesociety.ca