Submitted on
Source: Winnipeg Free Press
While it might not seem like much, an extra 17 feet of width and 20 (or so) feet of depth can make a big difference in how a home is designed.
Case in point is the Yorkton IV, A & S Homes' show home at 17 Chimney Swift Way in St. Adolphe's Tourond Creek.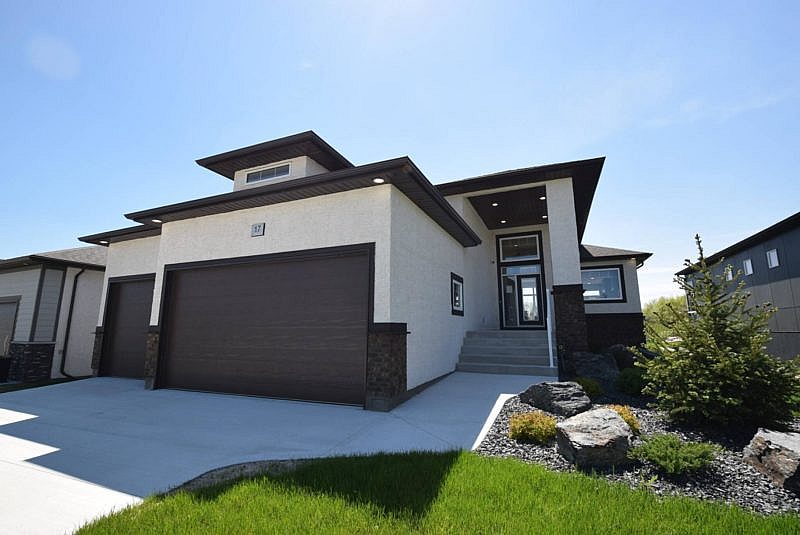 In a nutshell, a country-sized 57-foot by 130-foot lot allowed A & S' design team to make an already livable floor plan that much more livable, says Garry Loewen of Coldwell Banker Preferred Real Estate.
"This plan comes in several versions that range from about 1,400 sq. ft. to 1,668 sq. ft.," he says. "As good as the smaller plans are – they're very popular with empty nesters – this larger plan provides the extra space and utility that families are looking for in a home."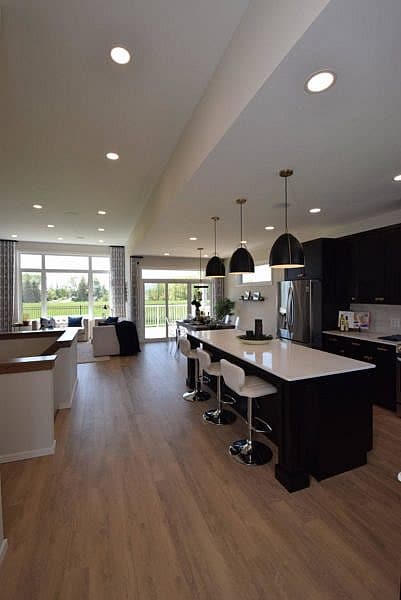 Right on cue, that livability starts in the foyer, which is bordered to the left by an exceptionally functional space: a king-sized laundry/mudroom.
"As wide and welcoming as the foyer is, the laundry/mudroom adds an extra dimension of utility," notes Loewen. "There's ample room to come in from the 29-foot by 24-plus-foot triple-attached garage with hockey equipment or groceries and storage space in a cantilevered closet area. And there's still plenty of space left over for the laundry area."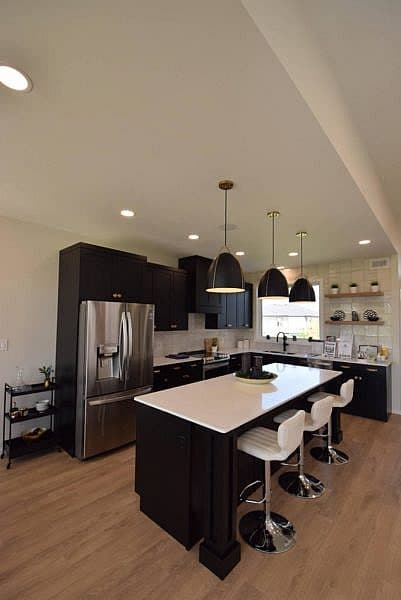 The fabulously functional foyer then transitions effortlessly into a positively luminous main living area.
"Its rear wall is simply filled with glass – a huge window on the family room's rear wall and a nine-foot-wide sliding patio door with a transom on the wall behind the dining area," he says. "There's also an oversized transom window on the dining area's side wall, and a big window over the double sink in the kitchen that lets even more natural light flow inside."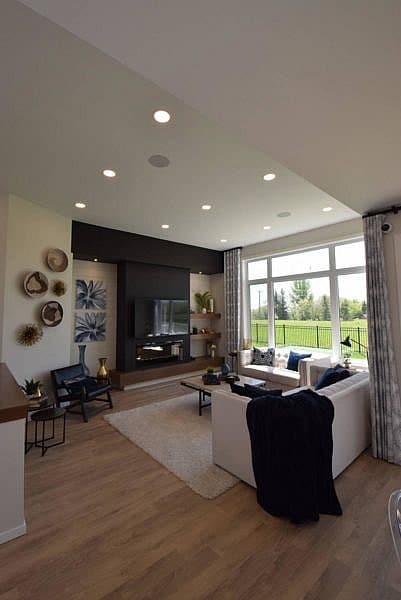 As bright and cheery as the main living area is, it would have been too bright had A & S' design team elected to go on-trend with white cabinetry and lighter flooring.
That's not the case here.
Dark brown cabinetry with a hint of grey and taupe laminate plank flooring infused with subtle grey highlights – plus dark light fixtures and a custom entertainment unit with the same dark brown/grey tint as the cabinets – naturally offsets all the light, adding just the right amount of warmth to the area.
"While big windows were a priority, so too was the colour scheme," says Loewen. "The balance between light and warmth is simply wonderful. And the extra square footage allowed an area that flows beautifully from space to space."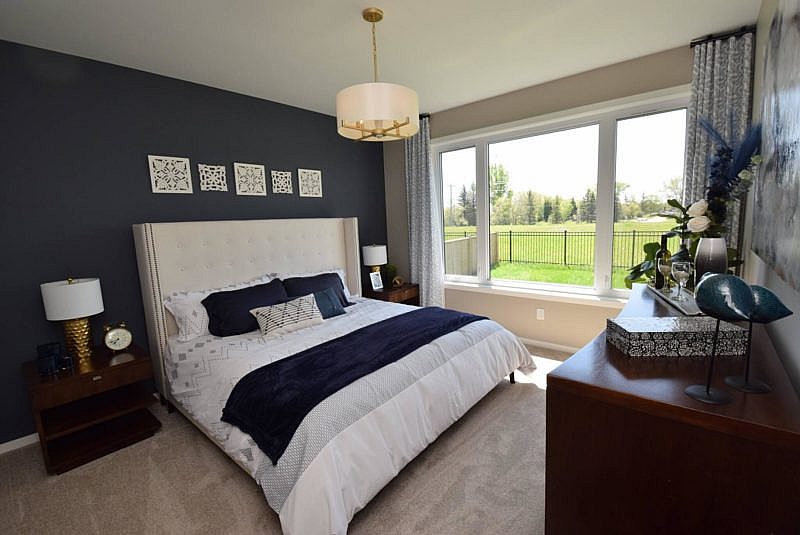 And while families will doubtlessly love spending time in the delightful great room, they'll also love the privacy that's offered by an intelligently designed bedroom wing.
"The wing is set opposite the kitchen with the primary bedroom off to the right in the rear left corner of the home," he says. "The bedroom is way at the back and can be accessed by a short hallway that was created by placing the ensuite and walk-in closet up front to create a great sense of isolation."
Thanks to the Yorkton IV's generous square footage, both secondary bedrooms are oversized with large double closets and huge windows. Even the main bath is larger than normal.
Loewen says the wing's piece de resistance – the privately-positioned primary bedroom – is a special space.
"A huge picture window on its rear that literally fills its rear wall looks out onto the backyard, mature trees and a farmer's field, the ensuite offers a gorgeous, tiled walk-in shower, grey vanity with his/her sinks and a mosaic tile floor, and there's loads of storage space in the walk-in closet. The sense of space, style and function is quite something."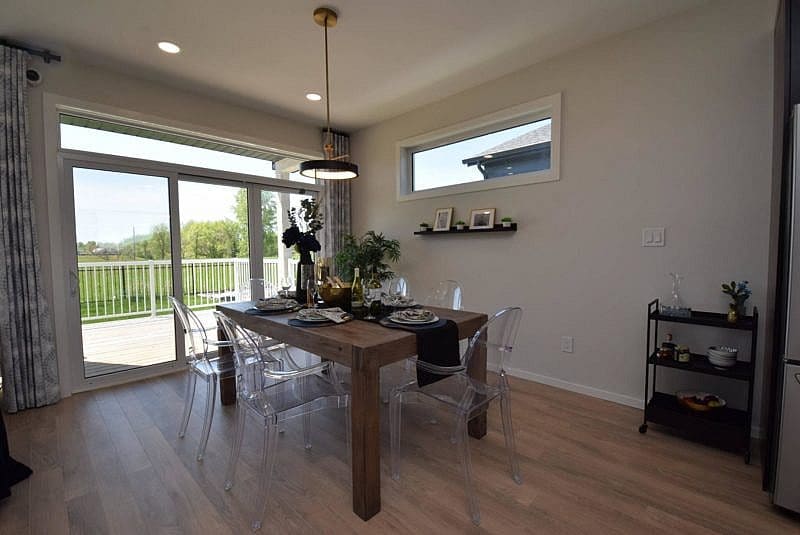 He adds that the home's location is as phenomenal as its stunning yet practical design.
"Tourond Creek is a well-designed community that's just 10 minutes from the city, offers a school and community center, and will soon be offering shopping and other services," he says. "It offers families and empty nesters a place where they can live in a friendly community just a stone's throw from the city in a beautiful bungalow that can be built on a country-sized lot at the size that best meets your needs."
By: Todd Lewys
Originally published by Winnipeg Free Press on June 18th, 2022