Submitted on
Roomy two-storey a great design for families
Source: Winnipeg Free Press
It's a given that size matters when it comes to designing a family-friendly home.
That said, escalating costs of building materials, increasing lot costs and supply chain shortages have conspired to send new home prices into the stratosphere.
As a result, builders have been prompted to find ways to keep the price of family-focused homes as affordable as possible in the face of being hit with cost increases on all fronts.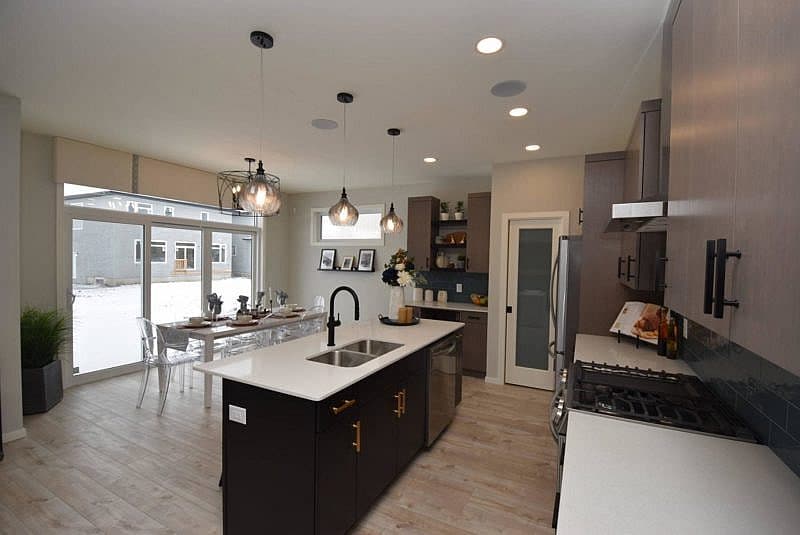 Jennifer Kalupar, sales representative for A & S Homes 2022 Fall Parade of Homes show home at 81 Goodman Dr. in north Winnipeg's newest community, Highland Pointe, says that the Indra III is a prime example of the new breed of home that builders have come up with.
"This home is designed to fit on a lot that's 32 to 36 feet wide," she says of the 1,776 square-foot, two-storey design. "It was built on a 36-foot-wide lot and features a wonderful design that provides a happy medium size-wise for families."
If the Indra III's plan could be summed up in one word, that word would undoubtedly be efficient — to such an extent that you quickly forget that the home is under 1,800 sq. ft. in size.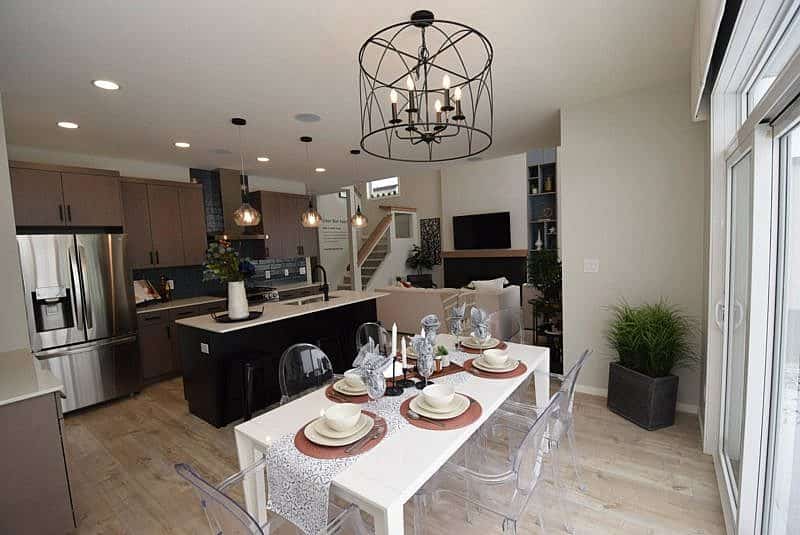 For starters, the foyer is wide and welcoming with two double closets plus a door to the double attached garage. There's even room for a bench on the wall opposite the front door.
Turns out, the middle section of the Indra III is just as impressive.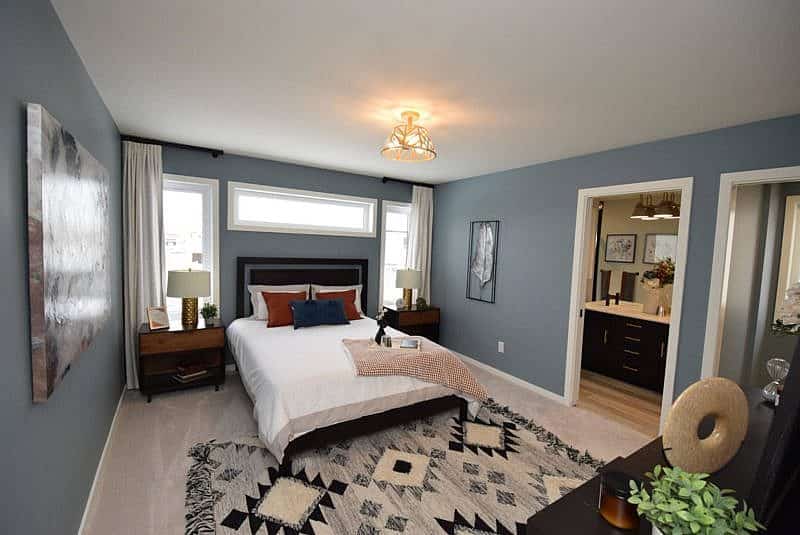 "It features a bedroom and full bath to the right, and a lower-level stairwell to the left with a side entrance," Kalupar says. "The bedroom would make a perfect in-law suite or office, while the side entrance could give in-laws easy access to a suite in the lower level. There's even a window next to the door. It adds light so you don't walk into a dark area before heading downstairs."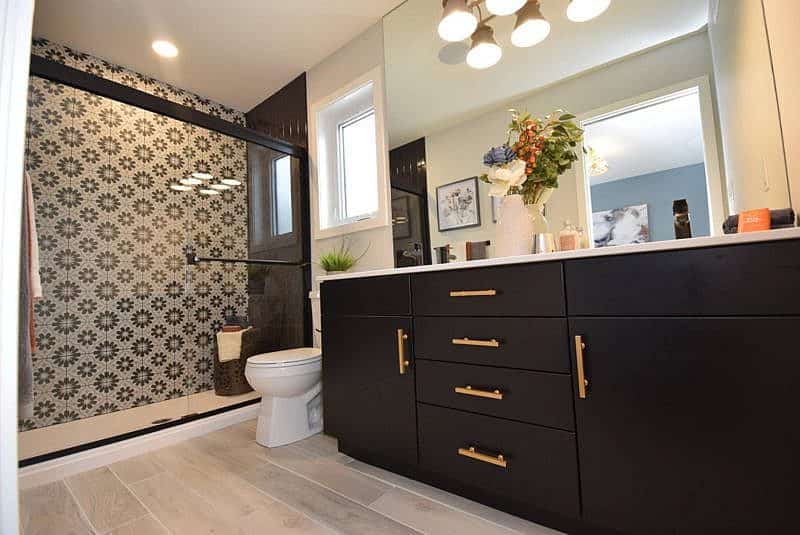 Walk forward a few more steps, and you find yourself in a well-lit — and deceptively spacious — main living area.
"The first thing you notice is all the natural light," she says. "It comes in from floor-to-ceiling windows in the great room, and a nine-foot-wide patio door behind the dining area. There's also a transom window above the doors that lets in extra light."
Meanwhile, the main living area's roomy feel can be attributed to intuitive space allotment.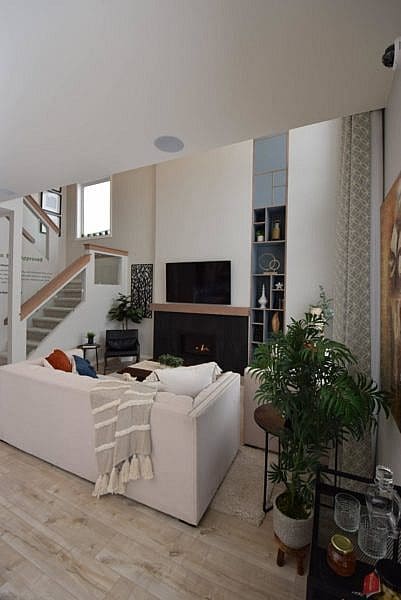 "Each space, from the kitchen to the dining area to the great room is just the right size. The kitchen is tucked perfectly into the corner and is centered around an eight-foot island, while the dining area — it can hold a table for six to 10 — is far enough away to be separated, yet easily accessible."
At the same time, the finishes work with the abundant natural light to create a rich, inviting ambience.
Natural wide plank vinyl plank flooring is warm yet bright enough so that it doesn't absorb all the daylight, while the island, with its black base and gold handles, contrasts with the off-white quartz countertops, Thunder-tinted thermofoil cabinetry and stainless-steel appliances.
A gorgeous great room then adds the perfect finishing touch to a stylish yet livable area.
'It's a beautiful space with its 18-foot ceiling, floor-to-ceiling windows and an entertainment unit with a gas fireplace, generous TV area above and five-tiered shelving. It looks great and functions well with its clean, simple design."
An angled staircase lined with tempered glass inserts then leads up to the Indra III's upper level, which features the same efficient, elegant design as the main floor.
Once again, A & S's design team used every bit of available space well, notes Kalupar.
"Because there's not a lot of hallway area, they were able to maximize the size of each space. Both secondary bedrooms are much larger than you'd expect, the laundry room is huge, and the main bath is a good size."
That leaves the well-isolated primary bedroom, which is also unexpectedly (but pleasingly) spacious.
"Right now, there's a queen-sized bed in it, but there's ample space for a king-sized bed," she says. "The bed is framed perfectly by three windows, there's a large walk-in closet, and the vanity is amazing with its gorgeous walk-in shower, tile flooring, window, and double vanity. No one who's viewed the home expected it to be large enough to have a vanity with dual sinks."
In short, the Indra III proves that a well-designed mid-sized home can deliver everything that a large family needs to enjoy life to the fullest.
"It has four bedrooms and three full baths, a bright, functional, main living area and great room sizes," Kalupar says. "It's an efficient plan that was designed to the needs of a big, active family."
By: Todd Lewys
Originally published by Winnipeg Free Press on November 12th, 2022