Submitted on
Source:  Winnipeg Free Press
When you think of a five-bedroom home, the expectation is that it must be 2,500 square feet or larger to fit in all those bedrooms.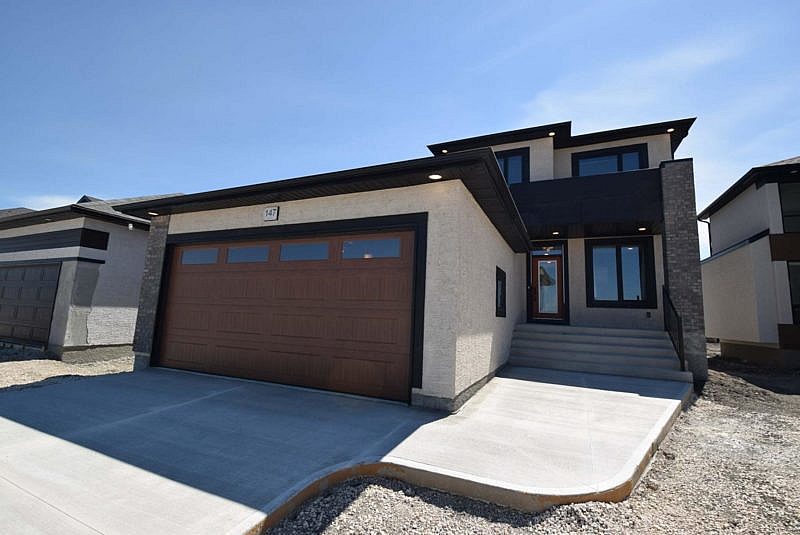 That's not the case with a new show home from A & S Homes at 147 Middlechurch Gate in West St. Paul's Parkview Pointe, says Mark Loewen of Royal LePage Alliance, the sales representative for the striking two-storey home,
"This home is actually 2,089 sq. ft.," he says of the Hampton, which sits on an oversized lot in West St. Paul's newest community, which lies just outside the Perimeter. "It's a beautifully-designed home that's full of features that make it perfect for a large or multi-generational family."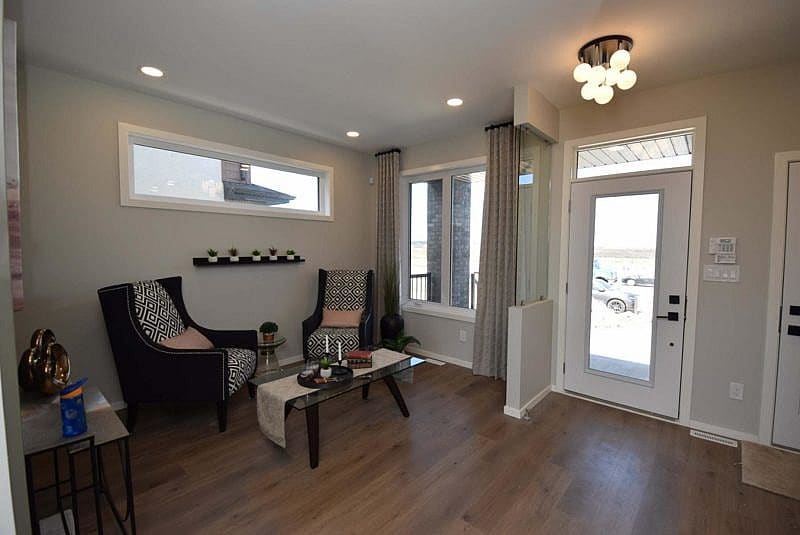 Loewen says the Hampton's flexible design starts in its foyer.
"The first thing you notice is a wing to the left with a bedroom and three-piece bath. The bedroom could be used either as an in-law suite or office," he notes. "The space to the right of the foyer is a flex room that could be used as a dining room, or living room. It could also be closed off to make it into an office."
A doorway placed between the foyer and great room on the right-hand wall further enhances the Hampton's family-friendly design.
"There's a side entrance set a few steps down that makes it easy for in-laws or renters to access the lower level," Loewen says. "And with 1,121 sq. ft. of livable space downstairs, you could easily put in two more bedrooms plus a rec room or bathroom, or make it into an in-law or rental suite. Engineered floor joists were used to reduce noise above."
Take a few steps forward, and you find yourself in an expansive great room.
As you take it in, two things capture your attention: its natural brightness, and its welcoming feel.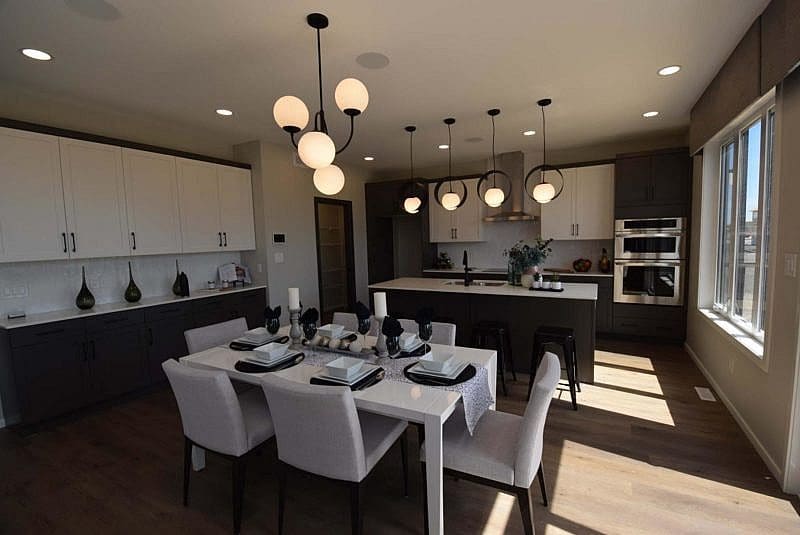 "An amazing amount of light comes into it through a large window behind the kitchen, a patio door with transom behind the dining area and floor-to-ceiling windows," he says. "At the same time, taupe walls, two-tone off-white/mocha cabinets and rich laminate plank flooring create a nice feeling of warmth. The great room isn't pure white, which makes for a cozy feel."
Meanwhile, the use of space in the great room is impressive.
There's plenty of room to create in the island kitchen, the dining area — it can easily hold a table for six to 10 — is accessible yet well-separated from the kitchen and family room, and the family room is simply spectacular.
"It's an absolutely gorgeous space with its 18-foot ceiling, floor-to-ceiling windows and optional entertainment unit with fireplace set in a beautiful off-white tile surround, huge TV niche, built-in mantel and shelving and bulkhead above," says Loewen. "At about $4,000, it's quite a reasonably priced upgrade."
Ascend the stylish upper-level staircase to the Hampton's second floor, and you find four bedrooms, a main bath and a laundry closet.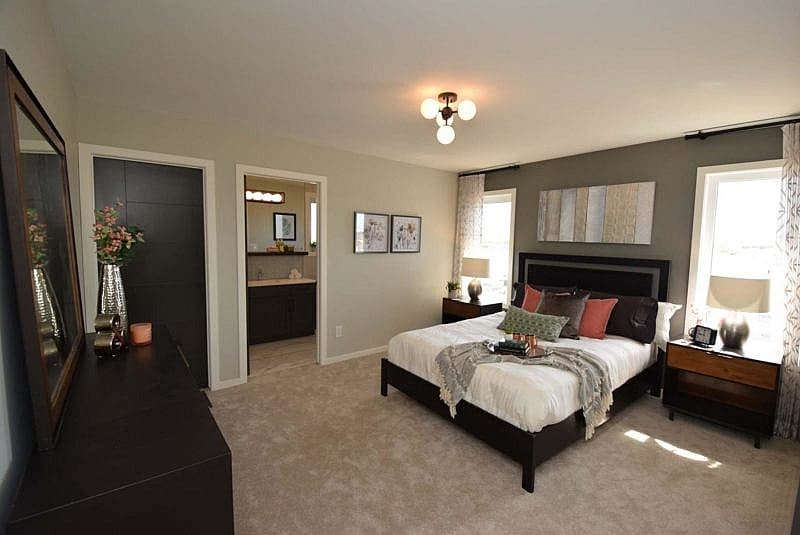 "The layout of the second floor is incredibly efficient. The primary bedroom was placed to the right of the stairs with the laundry closet in between it and the bedroom wing to give it a real sense of isolation. The bedroom wing holds three good-sized bedrooms and a beautiful four-piece bath. One of the bedrooms could be turned into a loft, but most people keep it as a bedroom."
Finally there's the spacious primary bedroom, which can also be modified upon request.
"As is, it has the walk-in closet to the left and a three-piece ensuite to the right," he says. "If a customer wanted a deluxe ensuite with soaker tub, we would reverse it, putting the ensuite to the left and the walk-in closet to the right. Either way, you get a retreat that gives you the privacy and luxury you need to unwind at the end of the day."
If you haven't checked out Parkview Pointe, you should, says Loewen.
"It's in a great spot just outside the city, only a hop, skip and jump from West and East Kildonan. You also get a lot that's 44 to 50 feet wide, which allows for a triple garage if you want — something you can't get in the city. Families will love the Hampton and Parkview Pointe's convenient location."
By: Todd Lewys
Originally published by Winnipeg Free Press on June 5th, 2021
Visit this home and others to see first hand how our A&S Homes maximize every inch of livable space.