Submitted on
Source: Winnipeg Free Press
Over the past three years, consumers have experienced a severe case of sticker shock when shopping for a new home.
Today, a home that sold for $450,000 three years ago now bears a price tag of $600,000 or more.
Combine that with a steep increase in interest rates (plus the federal government's onerous stress test), and many people find themselves priced out of the new home market.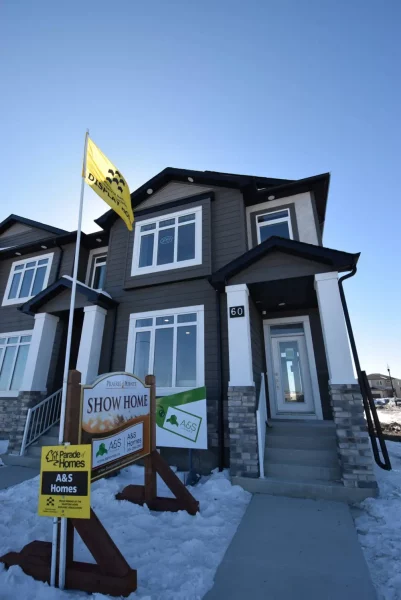 Fortunately, home builders — after much brainstorming — have come up with some new, more affordable options for those looking for a brand new home to put down roots in.
One of those options is The Emerald Townhomes in Prairie Pointe, says Adam Virgilio, who's marketing the sparkling new attached townhomes with sales partner Mark Loewen of Royal LePage Prime Real Estate.
"The first thing to note here is that these aren't condos — they're attached homes," he says of the brand-new townhome project, which is a 2023 Spring Parade of Homes entry. "There are no condo fees, you enjoy private ownership of the home."
If the homes could be described in one word, that word would be impressive.
Even though they're 1,325 square-feet in size, they live larger than their listed square footage.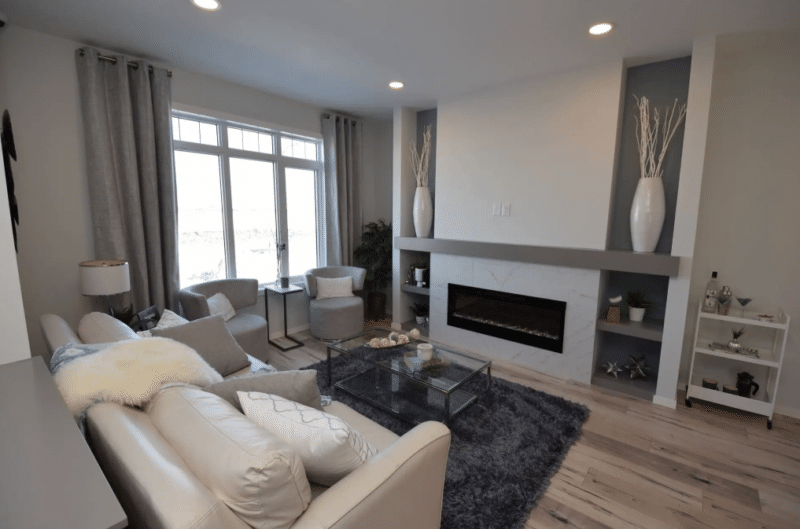 "That's because the layout is so efficient — there's no wasted space," says Virgilio. "You don't feel crunched in at all either on the main floor, or upstairs."
There are several reasons why the townhome feels so spacious, he adds.
"First, the ceilings are nine feet high. Second, there are huge windows everywhere. They let in tons of natural light and combine with the high ceilings to give the main living area a nice bright, airy feel. And third — especially with the main living area — the spaces are perfectly proportioned."
Consequently, the layout shines from the moment you step inside.
The main living area starts off with a living room tucked away neatly to the left of the foyer.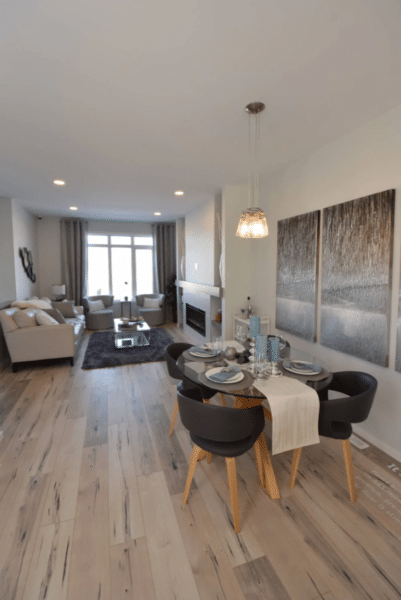 Separated from the foyer by a one-third, grey capped wall, it's filled with light courtesy of a huge window on its rear wall, and comes with a striking entertainment unit.
"All living rooms come with a linear electric fireplace set in different versions of a tile feature wall," Virgilio notes. "It looks really clean, and goes beautifully with either luxury vinyl plank or vinyl plank flooring. And there's enough room for a large sectional, or sofa and loveseat."
Next comes the surprisingly spacious and well-defined dining area.
"People have really liked the fact that it's not jammed in next to the living room," he says. "Not only that, but it can hold a good-sized table. Right now, there's a round table for four in it, but there's room for a table that would seat six to eight — and you still wouldn't feel crunched in."
The main living area is then rounded out by a well-designed peninsula kitchen.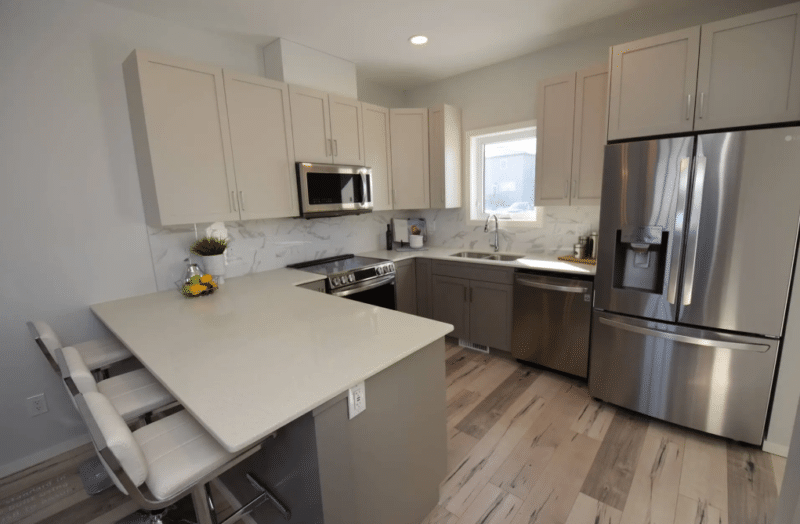 "It seats three at the peninsula and features a generous U-shaped interior that provides all kinds of room for more than one cook to prepare meals. Most units will come with white shaker cabinets, mosaic tile backsplashes and quartz countertops. There's also a back door with a landing and a powder room next to the kitchen."
Turns out, there are no disappointments upstairs, either; once again, space, light and style is plentiful.
"Everyone has been surprised by the size of the four spaces — the main bath, secondary bedrooms and primary bedroom," Virgilio says. "Again, you don't feel crunched in at all. The use of space is incredible."
Fittingly, the A&S design team saved the best for last in the form of a superbly designed primary bedroom.
"It has everything you could possibly want — plenty of room for a king-sized bed, end tables and a dresser, spacious walk-in closet and a three-piece ensuite with marble-style tile floor, grey vanity with quartz countertop and a walk-in shower," he says. "It's a private, relaxing space."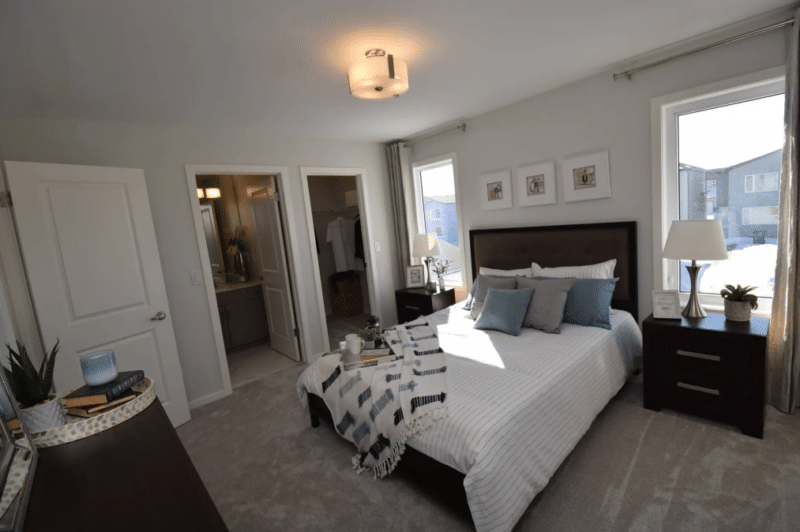 Last but not least is the townhome's lower level, which adds another 500 sq. ft. of livable space, bringing its total livable space to 1,825 sq. ft.
"You can easily put in a fourth bedroom, rec room and bathroom and still have lots of storage space. There's also an option for a detached garage out back; end units get a double, while interior units get an oversized single. You also get your own private backyard."
Not surprisingly, there are only six homes remaining out of 23.
"These townhomes offer incredible value, livability and style in a great location," says Virgilio. "It's the only project of its kind in the area, so if you're interested, you should act right away."
By: Todd Lewys
Originally published by Winnipeg Free Press on March 11th, 2023.