1st Floor
Suite #
Type
Sq. Ft.
Bed
Bath
Rent
3101
FW4
1,073
2
2
$2,195
3102
FW4
1,073
2
2
$2,195
3104
FW3
990
2
2
$2,031
3106
FW2
705
1
1
$1,608
3108
FW3
990
2
2
$2,031
3110
FW3
990
2
2
$2,031
3112
FW6
1,232
3
2
$2,553
3114
FW3
990
2
2
$2,031
3117
FW3
990
2
2
$2,031
3118
FW3
990
2
2
$2,031
3119
FW2
705
1
1
$1,608
3120
FW2
705
1
1
$1,608
3121
FW2
705
1
1
$1,608
3122
FW3
990
2
2
$2,031
3123
FW6
1,232
3
2
$2,553
3124
FW6
1,232
3
2
$2,553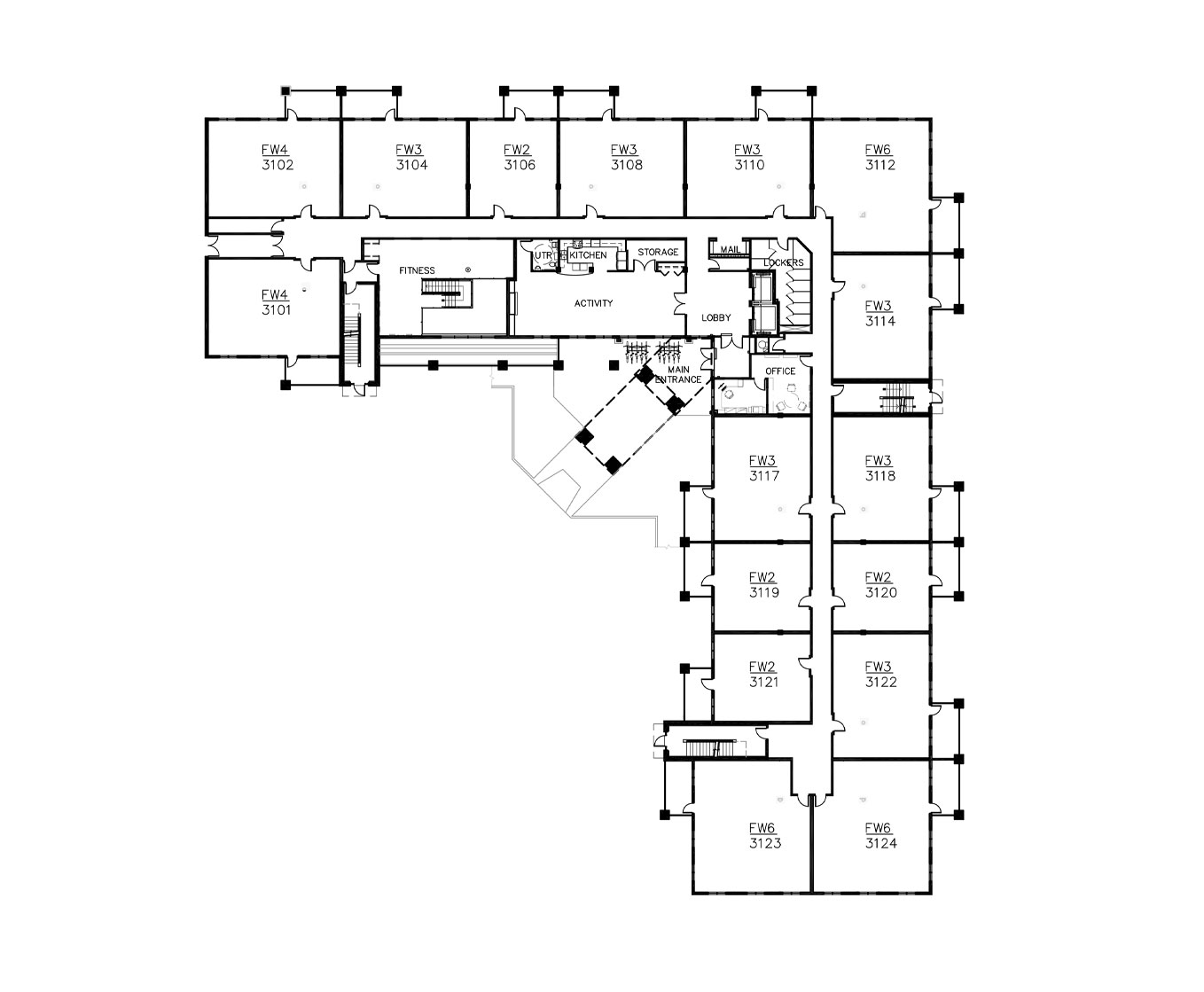 2nd Floor
3rd Floor
4th Floor
5th Floor
6th Floor
Fairway Woods is built with concrete & steel and all suites feature drywall ceilings, and are furnished with a 4 piece Samsung stainless steel kitchen appliances & front load washer/dryer, Yorkshire artistic white cabinets, LVT flooring, Quartz countertops & Grohe plumbing fixtures in kitchen & bathroom(s) & Window covers. Tenants have access to all amenities including Car wash (small fee), Multi-purpose room (seats 64) with full kitchen, nicely equipped gym with sauna and showers, & wood working shop. Total Monthly Rent includes central air, heat, hydro, water, property taxes, building insurance, janitorial & maintenance services which includes appliances, snow removal, landscaping maintenance, administration & management, maintenance of two elevators, and all applicable taxes. Monthly Rent excludes telephone, cable TV, internet, lockers & parking.
Underground Heated Parking Stalls – 8ft wide is $150/month
Extra Wide Underground Parking Stall – 9ft wide is $175/month
Extra Wide Underground Parking Stall – 10ft wide is $200/month
Outdoor Parking Stalls – $75/month
On-Floor Storage Lockers – $60/month
Guest Suite is available @ $100/night
Contact John Vander Kooy with any questions about Fairway Woods.