Submitted on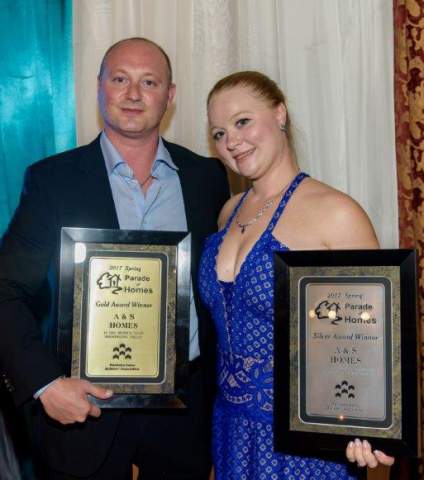 WINNIPEG, April 26, 2017 – A&S Homes, Manitoba's leading homebuilder took home six awards, three gold and three silver, at Manitoba Home Builders' Association Spring 2017 Parade of Homes Gala award ceremony. With its six awards, A&S Homes adds to its already-impressive total of more than 200 awards in the MHBA's history – outdistancing any other home builder in Manitoba "It's a great privilege to have our hard work recognized by MHBA," said Frank Spezzano, Vice President of Business Development and A&S Homes "Since 1976, we've committed to dependability, hard work, and excellence in design and it's a great feeling to have that acknowledged amongst the MHBA and the public."
A&S show homes are built to their Green Bow™ Approved standards that come equipped with industry-leading construction methods and high-quality materials. Green Bow™ Approved standards include high-quality exterior cement, high-performance air quality systems, multi-functional uncoupling layers, and low-emission paint. For more information, visit https://ashomes.ca/green-bow-approved.
Parade of Homes, a three-week, bi-annual event, offers new home buyers the latest in the home-building industry and occurred from March 4, 2017 to March 26, 2017. A&S Homes' show homes are open year-round at the following times:
Monday-Thursday: 5 p.m. – 8 p.m.
Friday: By appointment only
Saturday-Sunday: 1 p.m. – 5 p.m.
A&S Homes invites you to visit these award-winning Parade of Homes show homes:
GOLD
The Rosedale at 15 Del Monica Road in Bridgwater Trails
The Charlotte at 226 Philip Lee Drive in Crocus Meadows
The Faircrest at 14 Del Monica Road in Bridgwater Trails
SILVER
The Winona 3-401 Pandora Avenue E in Transcona
The Cortina at 53 Eaglewood Drive in Prairie Pointe
The Royal at 19 Larry Vickar Drive E in Devonshire Village